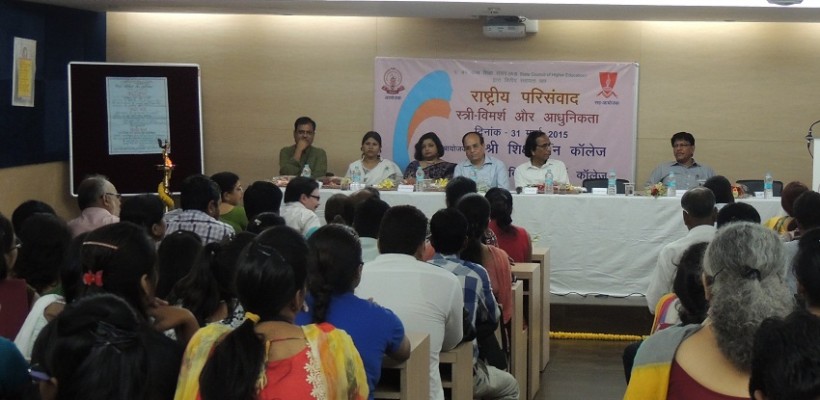 DEPARTMENT OF HINDI
YEAR OF ESTABLISHMENT: 1955 | 1957: Honours

DISTINCTIVE FEATURES
§ First Honours department in the college
§ First Honours department in Hindi under C.U. and in a non – Hindi state in India
§ Received prestigious Chanda Bai Puraskar in 1959 from University of Calcutta
ACHIEVEMENTS
§ Maximum number of Saraswati Trophy
recipients – 15 students [1958-1959, 1962-1963, 1963-1964, 1968-1969, 1972-1973, 1976-1977, 1983-1984, 1985-1986, 1986-1987, 1990-1991, 1992-1993, 1996-1997, 1997-1998, 2000-2001,2005-2006]

ACTIVITIES CONDUCTED BY
THE DEPARTMENT
§ Celebration of HINDI DIWAS in September every year
§ Organised: NATIONAL SEMINAR funded by W.B. Council of Higher Education in March 2015 in observance of Womens' Empowerment
§ Publication of departmental journal : Hastakhshar
§ Students Wall Magazine: Deepshikha
ELIGIBILITY CRITERIA
Category
Eligibility Criteria For Form Fill Up
Additional Criteria
General
(Minimum aggregate 50% AND 45% in Hindi) OR (55% in Hindi if aggregate below 50% but more than 45%).
Must have passed in English
SC/ST/OBC-A/OBC-B
Candidates belonging to the SC, ST, OBC-A & OBC-B communities should obtain a minimum of 40% marks in the aggregate OR 40% marks in the subject or related subjects. SC,  ST & OBC communities recognised by Govt. of West Bengal are only eligible for the exemption mentioned above .
Must have passed in English
Index Marks Calculation for Merit List
(Aggregate + Hindi ) / 2
HINDI AS ELECTIVE:
ELIGIBILITY CRITERIA :
45% and above in aggregate
SUBJECT COMBINATION:
ENGLISH AND ONE MODERN INDIAN LANGUAGE (MIL) ARE COMPULSORY. HINDI / BENGALI / URDU ARE OFFERED AS MODERN INDIAN LANGUAGES. STUDENTS ARE TO CHOOSE THE HONOURS SUBJECTS AND TWO ELECTIVE SUBJECTS TAKING ONE SUBJECT ONLY FROM A GROUP. MUSIC MAY BE OPTED AS A NON-TAUGHT SUBJECT.
GROUP-I
GROUP-II
GROUP-III
Political Science/ Education
History
Economics / English
Political Science/ Education
JMC
Economics / English
Events & Workshops
Faculty Exchange Programme was organized by Department of Hindi on 03.09.15. The session on Sanskar: Ek Charcha by Dr U.R. Anantmurty was conducted by Dr. Itu Singh, Associate Professor, Khidderpore College.
Department of Hindi organized 'Meet the Author' programme on 20.11.15. The session    was conducted by a celebrated modern story writer and poet Dr. Sudha Arora, Ex-student and Faculty of Shri Shikshayatan College.
Special Lecture was organized by Department of Hindi on 15.01.16. Eminent poet, story writer and novelist Ganga Prasad Vimal, Retired Professor and Dean of Linguistics, Jawaharlal Nehru University, spoke on 'Hindi Sahitya Ki Mukhya Chintain.
Our Faculty