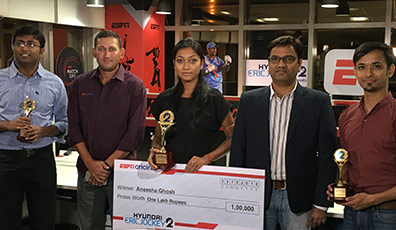 Annesha Ghosh (B.A. English (H) of 2014) winner of Hyundai Cric Jockey Season 2 shares her story
Year 2001-First interaction with cricket:
At 9 years of age, I suddenly barged onto the playing area in the backyard of my house, while a game of cricket was underway between my cousins and friends. My elder brother recounts how I accosted them for not having let me be a part of either team and subsequently 'demanded' to be allowed to bat 30 deliveries on the trot. The cost of refusal would have been too dear for them to bargain for, as I had stolidly threatened to bring the match to a halt by fleeing with the ball.
Year 2002-Falling in love with the game:
I remember spending the better part of the summer vacation during my schooldays playing gully cricket with the boys in the neighborhood. The rare opportunity of watching the likes of Belinda Clare, Charlotte Edwards, Jhulan Goswami and Mithali Raj on TV during World Cup fixtures in the early 2000's would have me skipping classes frequently. At 18, I was enrolled into a cricket training academy in my hometown, Behala. However, it was not long before I had to call it quits on my cricketing pursuits as academics– by rule of predominant societal obligations– was forced into taking precedence. It was only following the Women's World T20 final at the Eden Gardens between the Southern Stars and Windies Women earlier this year that I resumed training at Rising Star Sports Club at Vivekananda Park in Kolkata and have gone on to play several inter-club matches ever since.
Year 2009-Cricket running in the veins:
While the menfolk in my family have always identified themselves as ardent football fanatics, the cricket tragic in me has perennially struggled to look beyond the bat and ball. As my passion for the game grew during my late teens, I began surrounding myself with a lot of cricket literature– fiction and non-fiction alike. With a view to keeping up with and gaining greater insight into the everchanging dynamics of the sport, I downloaded the ESPNcricinfo app in 2013. Be it live ball by ball commentary, detailed stats or quality features from the experts, ESPNCricinfo has ever since been the most reliable medium for satiating my cricketing curiosity.
Year 2012-Ambition to become cricjockey?
Being a student of the game myself, I have always aspired to analyze cricket from an insider's perspective. As a result, I would often find myself engaging in 'shadow commentary' before the television set and articulating the proceedings of the match in the same way as I would assess while playing on the field myself. In addition, writing on the sport for several websites as a freelance journalist over the past fourteen months has helped me learn on the job and hone my skills concomitantly. Thus, winning the Hyundai Cricjockey Season 2 could prove to be a stepping stone to realizing a long-cherished dream.
18th October 2016-CricJockey Prelims entry:
On Tuesday, October 18, a chanced glance at one of the advertisements appearing alongside an article by Jarrod Kimber led me to hyundaicricjockey.com.  Even though I was due to go for my  training in less than an hour that afternoon, I decided to give the Hyundai Cricjockey Season 2 a try. A one-minute real-time commentary on Virender Sehwag's 26-run blitzkrieg against Sri Lanka 's Dilhara Lokuhettige in the 2005 Indian Oil Cup Final, recorded via an IVRS call became my means of entry into an experience of a lifetime.

23rd October 2016-Super 8:
In less than 24 hours thereafter, I was in for a surprise. The news of my qualification into the Top 8 out of 25,000-odd entries kindled hopes of the something extraordinary ahead. It was, after all, going to be a 22-year-old's first ever visit to Mumbai– a city with a cricketing heritage of over 168 years. Not to mention, its connection with a certain Sachin Ramesh Tendulkar.
The knowledge of making the Top 8 of as the sole female contestant added a significant dimension to my candidature. Thus, as part of the screening process for qualification into the subsequent round, I chose to bat for the bowler, while making a case for the women's game and ensuring higher safety measures overall in cricket. What made the experience all the more special was the opportunity to interact with senior sports journalist Gaurav Kalra. With his infectious zen-like composure, the senior editor at ESPNCricinfo.in ensured I felt at home once the camera was on.
A flight back to Kolkata the next evening meant I was back to knocking the ball in the nets at Vivekananda Park early on Sunday. However, the incommunicable feeling of having left some business unfinished in Mumbai incapacitated me from unpacking my bags. I knew I had to be back… no matter what.
The following 48 hours saw my friends, family, teachers and other well-wishers rallying around my qualification into the Fab 3.
Prayers and performance pushed me an inch closer to the ultimate glory, as jury members at ESPNCricinfo mandated I board an early-morning flight the next day, and see the serendipitous journey to its natural conclusion.
26th October 2016-Fab 3
October 26, 2016 was going to be an important day not only for Kane Williamson's men at the JSCA Stadium in Ranchi, but also for three individuals sharing a common passion for the game of cricket and waiting to lock-horns at the ESPNcricinfo studios in Chakala, Mumbai. As the day proceeded, the Fab 3 found themselves bonding over Bengal and biriyani, with some deliberate mispronunciations of Bori'ville' and Kandi'ville' to go with it.
As nightfall approached, India's deplorable outing with the bat ended with a 19-run victory to the visitors. Business at the ESPNcricinfo studios in Mumbai was, however, far from over. Three minutes of conversation with former India cricketer Ajit Agarkar, alongside ESPNcricinfo presenter Raunak Kapoor, was going to decide the fate of three aspiring cricket analysts. At 11:10 pm or thereabouts pm the shoot came to a close. What ensued thereafter is the stuff dreams are made of…
29th October 2016-Presenting the new voice of ESPNcricinfo Jockey:
A phone call late in the afternoon on October 29 bore the news I have been awaiting with baited breath since what now seems an eternity. Elated, I am, on being crowned the winner of Hyundai Cricjockey Season 2!
This journey wouldn't have been possible without the support of everyone who has relentlessly lent their encouragement from all corners of the world. To each one of them I stand indebted.
I'd also like to take this opportunity to thank the jury members for considering me deserving of this honour. I believe, this is only the prelude to what I wish to conceive of as a rewarding career in sports journalism. Thus, I will strive to work diligently in the days ahead and do justice to the faith the judges have shown in me.
One phone call. 25,000 aspirants. One winner.
It is not for no reason they call cricket a game of glorious uncertainties.
Being a Hyundai Cricjockey