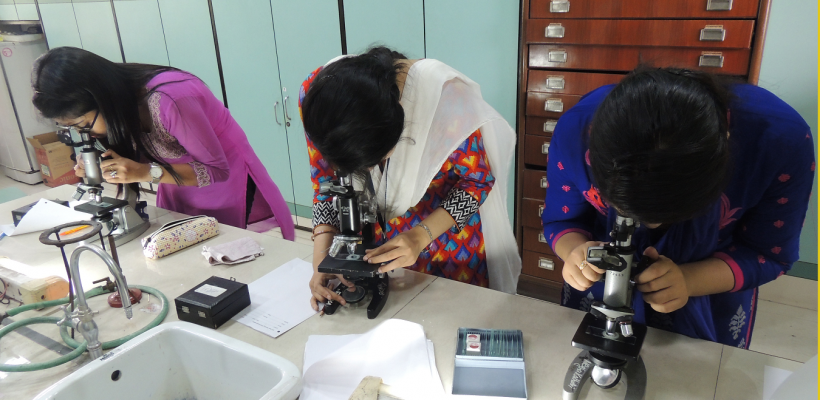 DEPARTMENT OF BOTANY
YEAR OF ESTABLISHMENT: 1957 | 2002: HONOURS

ACHIEVEMENTS
§ 5 rank holders in University Examinations in the last 6 years.

ACTIVITIES CONDUCTED BY
THE DEPARTMENT
§ Celebration of Special Days like Science Awareness Day and Earth Day.

ELIGIBILITY CRITERIA
Category
Eligibility Criteria For Form Fill Up
Additional Criteria
General
Minimum aggregate 60% AND 60% in Botany or Biology or Biotechnology AND 50% in Chemistry
Must have passed in English
SC/ST/OBC-A/OBC-B
Candidates belonging to the SC, ST, OBC-A & OBC-B communities should obtain a minimum of 40% marks in the aggregate OR 40% marks in the subject or related subjects. SC,  ST & OBC communities recognised by Govt. of West Bengal are only eligible for the exemption mentioned above .
Must have passed in English
Index Marks Calculation for Merit List
(Aggregate + (Botany or Biology or Biotechnology) + Chemistry)/3
BOTANY AS ELECTIVE:
ELIGIBILITY CRITERIA :
45% and above in the subject AND 50% in aggregate.
SUBJECT COMBINATION:
ENGLISH AND ONE MODERN INDIAN LANGUAGE (MIL) ARE COMPULSORY. HINDI / BENGALI / URDU ARE OFFERED AS MODERN INDIAN LANGUAGES. STUDENTS ARE TO CHOOSE THE HONOURS SUBJECTS AND TWO ELECTIVE SUBJECTS TAKING ONE SUBJECT ONLY FROM A GROUP. MUSIC MAY BE OPTED AS A NON-TAUGHT SUBJECT.
GROUP-I
GROUP-II
Chemistry
Zoology
Events & Workshops
Special Lecture was organized by Research Committee of our College for Botany Honours and Bio-General students on 15.02.16. Ramyani Chattopadhyay, Assistant Professor, Department of Zoology of our college delivered a lecture on 'Effect of Commonly Used Detergents On Fish and Other Aquatic Animals'.
The students of Department of Botany went for an educational excursion to Kalimpong (West Bengal) and Ravangla (Sikkim) on 21.02.16 and returned on 28.02.16.
Our Faculty