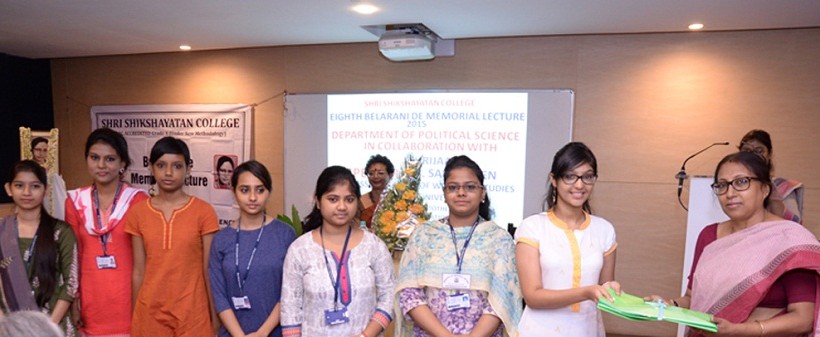 DEPARTMENT OF POLITICAL SCIENCE
YEAR OF ESTABLISHMENT:   1955 | 1964: Honours

INTAKE
36
FACULTY MEMBERS

Associate Professor
Dr. Mandar Mukherjee, M.A., Ph.D

Associate Professor
Smt. Urmi Gupta, M.A., M. Phil

Assistant Professor
Dr. Debolina Mukherjee, M.A., Ph. D

Assistant Professor
Dr. Siuli Mukherjee, M.A., Ph. D

DEPARTMENTAL HIGHLIGHTS

Perception — The Departmental journal (ISSN 2454-4353)
Conducting of academic field trips and surveys to other academic and administrative institutions. ( Visva- Bharati , Kolkata Municipal Corporation )
Regular sessions involving eminent personalities from academia and beyond to ensure both the professional and personal growth of students. ( e.g. Mental Health , Research Orientation etc)
Gender Sensitization Programs via special lectures, students' contributions in departmental journal and presentations.
Collaborative Program with other department(s) of the College.
HANDHOLDING: A platform for former departmental students to share their experience, to enlighten and guide the present students.
STUDYMATE: A collaborative exercise involving departmental teachers and students in forming a University question bank.
HARMONY: A Departmental cultural platform for students to showcase their talents and ensure their holistic development.
Active involvement of students in Active Learning Day, Special Lectures, Departmental Freshers' Welcome and Farewell and other students' programs.

Programs/webinars/workshops/conferences/special lectures oragnised by the department


Date
Title of the program
Name of resource person
Platform
15.10.2020
Special Lecture on Crime against Women with Emphasis against Dalit Women
Dr. Debi Chatterjee, Former Professor , Department of International Relations , Jadavpur University
Google Meet
20.10.2020
Expositions on Liberalism : Raja Ram Mohan Roy and Jeremy  Bentham
Students' Web Presentaton — PLSA students Sem III and Sem V
Google Meet
Google Meet
06.02.2021
Research Orientation Lecture –Role and Relevance of Social Science Research in Contemporary Times
Priya Singh, Associate Director, Asia in Global Affairs, Kolkata
Google Meet
06.04.2021
Interdepartmental Webinar– Women's Position and Movement: Colonial and Independent India
Departmental Students of History and Political Science , Shri Shikshayatan College
Google Meet
Google Meet
20.04.2021
HARMONY ART, CRAFT and PHOTOGRAPHY Meet
First  HARMONY Presentation
Google Meet
23.04.2021
HARMONY Poetry and Dance Meet
Second HARMONY Presentation
Google Meet
27.04.2021
HANDHOLDING Program
Former students , Department of Political Science ,Shri  Shikshayatan College
Google Meet
04.05.2021
Library Orientation Program
Smt. Swati Bhattacharya, Librarian, General Library Shri Shikshayatan College
Google Meet
11.05.2021
Mental Health Orientation Lecture–Mind Your Mind
Dr. Bijoy Jacob, Medical Superintendent, Antaragram,Psychiatric Treatment & Mental Rehabilitation Centre
Google Meet
18.05.2021
Talk on Intellectual Property  Rights –The IPR Regime and the WTO-An Overview
Dr. Prosenjit Pal, Associate Professor and Head,Department of Political Science ,Diamond Harbour Women's University
Google Meet
18.06.2021
Legal Literacy Lecture — STRI SHAKTI IN PERIL: An analysis  of  the endemic nature of violence against women in India
Dr. Debarati Sen, Assistant Professor,Department of Political Science, Seth Soorajmull Jalan College
Google Meet
25.06.2021
HARMONY ART, CRAFT and PHOTOGRAPHY Meet
Third HARMONY Presentation
Google Meet
13.07.2021
Thirteenth Belarani De Memorial Lecture — Indian foreign policy and the global order in pandemic times: some reflections
Dr. Shibashis Chatterjee, Professor , Department of International Relations and Governance, Shiv Nadar University , Delhi- NCR
Google Meet
08.10.2021
Library Orientation Program
Smt. Swati Bhattacharya, Librarian, General Library, Shri Shikshayatan College
Google Meet
26.12.2021.
Fourteenth Belarani De Memorial Lecture — Marx's Concept of Alienation: An Introduction
Dean of Humanities & Social Science, Presidency University
Facebook Live on Shri Shikshayatan College official Website
23.12.2021
 Interactive Session On  Mental Health on 'Post-Lockdown : Reflecting & Reclaiming'
Dr. Jhuma Basak, Training & Supervising Psychoanalyst ,Indian Psychoanalytical Society
Google Meet

JOURNAL 

ALUMNI
The students of the department, after graduation generally pursue Masters degree in Political Science and other allied disciplines like International Relations, Public Policy , Social Work et al in reputed institutions . Besides, many of them opt for professional courses such as Legal Studies, Journalism, M.B.A etc, Some of them get into services and few become self-employed. They have become successful working professionals in the service sector, both in the academic and professional world.
ILLUSTRIOUS ALUMNI
The alumni of the Department are Faculty members of higher educational institutions such as University of Calcutta, Kalyani University ,Loreto College, Vivekananda College for Women, Bangabasi College .