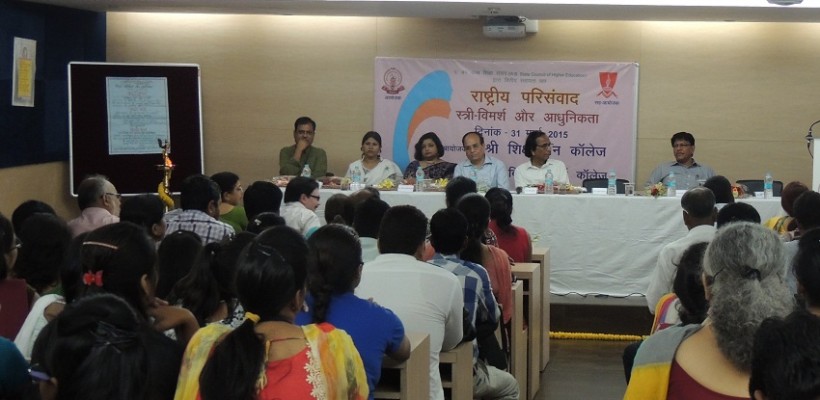 DEPARTMENT OF HINDI
YEAR OF ESTABLISHMENT: 1955 | 1957: Honours

INTAKE CAPACITY

36
FACULTY MEMBERS

Designation
Name & Qualfication

Associate Professor
Smt. Sindhu Mehta, M.A., B.Ed., M.Phil.

Assistant Professor
Smt.Alpana Nayak, M.A., B.Ed.

Assistant Professor
Dr. Priti Singhi, M.A., B.Ed., M.Phil., Ph.D.

Assistant Professor
Dr. Rachana Pandey, M.A., B.Ed., Ph.D.

Guest Lecturer
Smt. Priyanka Singh, M.A., M.Phil.

DEPARTMENTAL HIGHLIGHTS

The Hindi Dept. is the first Hons Dept. of the college.

The girls from our Dept. have received the 'Saraswati Trophy' several times in the past. Saraswati Trophy

recipients – 15 students [1958-1959, 1962-1963, 1963-1964, 1968-1969, 1972-1973, 1976-1977, 1983-1984, 1985-1986, 1986-1987, 1990-1991, 1992-1993,   1996-1997, 1997-1998, 2000-2001,2005-2006]

Every year in the month of September, we organize 'Hindi Diwas' in which a seminar is held and also organize competitions like Creative Writing, Extempore, Drama, 'Kavya- Aawriti', 'Kavya -Poster', etc where students from other colleges participate and we give away certificates and prizes.

National Seminars are organized regularly.

Special lectures, Active learning Day, Alumni Lecture , Institutional Visits.

Programmes/webinars/workshops/conferences/special lectures oragnized by the department


| | | | |
| --- | --- | --- | --- |
| Date | Title of the programme | Name of resource person/Organization | Platform |
| 31/3/2015 | National Seminar In collaboration with Rani Birla Girl's College – Topic : Stri Vimarsh Aur Aadhunikta | Prof. Ravibhushan, Prof. Jagadishwar Chaturvedi, Vimal Kumar, Prof. Rajashree Shukla, Prof. Soma Bandoppadhyay, Dr. Geeta Dubey, Prof. Vedraman Pandey, Dr. Rahul Singh, Dr. Poonam Shaw | SSC |
| 20/4/18 | National Seminar In collaboration with Bhartiya Bhasha Parishad – Topic : '21Vi Sadi Mein Bhakti Sahitya Ka Pariprekshya | Prof. Awadhesh Pradhan, Dr Shambhunath Srivastava, Dr. Madhvendra Pandey, Dr.Biva Kumari ,Dr.Rajashri Shukla, Dr. Vedraman Pandey ,Dr.Rishikesh Rai, Dr.Vivek Singh | Bhartiya Bhasha Parishad |
| 6/8/2020 and 7/8/2020 | Topic:Day 1-Tisari Kasam Day 2- Maanas Ka Hans | Prof. Sudha Singh(DU),Prof.Aashish Tripathi(BHU),Dr. Surya Prasad Dixit(Lucknow Univ.), Dr.Premshankar Tripathi(surendranath College) | Zoom Meeting |
| 01/06/2021 | Hindi Mein Rozgar Ki Sambhawnayen | Smt. Vijaylaxmi Singh | Google Meet |
| 12/06/2021 | Vibhajan ki trasadi : hindi urdu ki kahaniyan | Prof,Bharat Prasad- NEHU , Dr.Umar Ghazali,Hoogli Mohsin College,Bardwan Univ | Google Meet |
| 03/07/2021 | Laingik Vimarsh: Samaj, Sahitya Aur Cinema | Prof. Jai Kaushal (Assam Univ.),Dr. Sujata (D U),Paati Purohit (Gender Activist) | Zoom & FB Live |
| 16/09/2021 | Shiksha Aur Bhartiya Bhashayen | Shri Prempal Sharma(Ret. Exe Director,Ministry Of Railway | Google Meet |

JOURNAL
ALUMNI
Students pursue higher studies including various professional courses.
Many students have been well placed in various fields : School Teacher, Professor, Journalist , Screenwriter, Translator, Interpretor, Content Writer Editor , Application Developer , News Anchor, Government Servants etc..Some of the illustrious alumni are :

Usha Ganguli (1945 – 23 April 2020) Renowned Indian theatre director-actor and activist
Kusum Khemani : Renowed author, educationist and President of Marwari Balika Vidyalaya.
Sudha Arora ; critic, script writer and a popular name in fiction
Sudha Singh : Sr. Prof. Media, Journalism and Translation, Dept. of Hind in D.U. Renowned Critic.
Meena Murarka : Gold Medalist, Saraswati Trophy Winner and Ex Prof.in Hindi, South City College.
Geeta Dubey : Gold Medalist, Associate Prof. in Hindi, Scotish Church College, Poet and Critic.
Biva Kumari : Associate Prof. In Hindi, Kalayani University and Critic.
Sharmila Bohra Jalan : Famous Fiction Writer, Sr.Teacher in Modern High School For Girls.
Sweta Rai : Gold Medalist , Saraswati Trophy Winner, Sr.Officer at State Bank of India
Sulekha Kumari: Gold Medalist,Assistant Prof. in Hindi ,Vidya Sagar College.