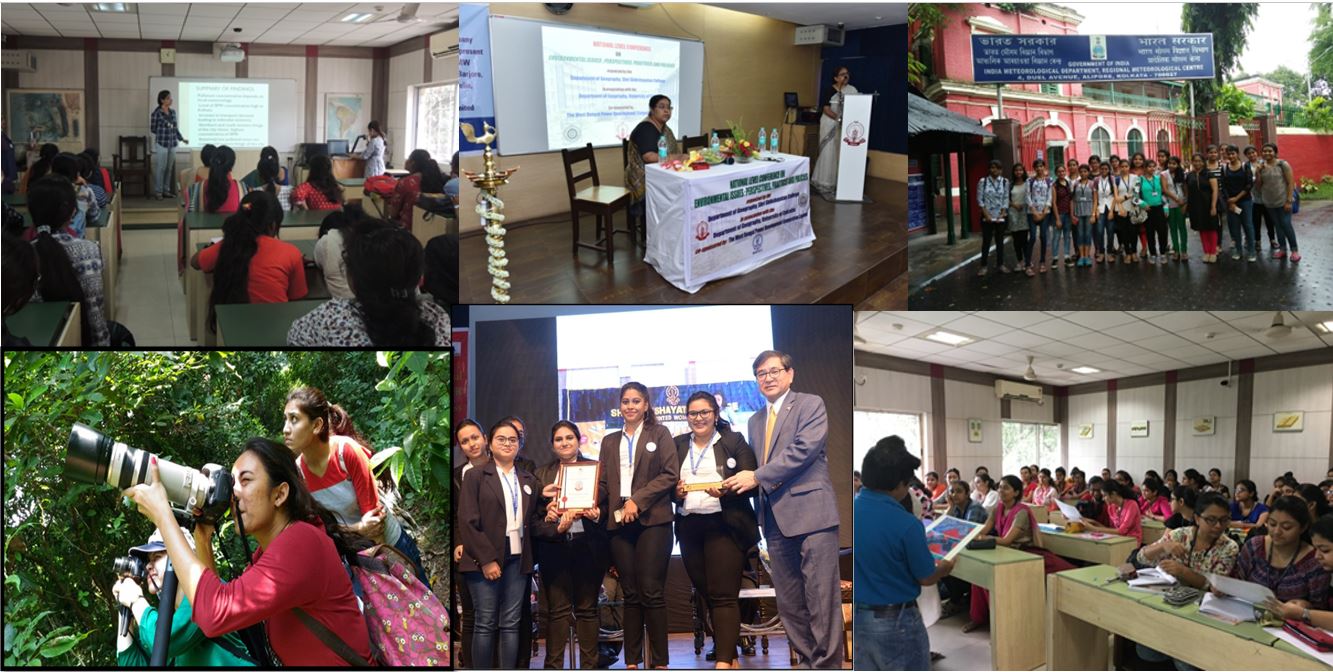 DEPARTMENT OF GEOGRAPHY
YEAR OF ESTABLISHMENT: 1955 : General | 1995 : Honours

INTAKE CAPACITY

61
FACULTY MEMBERS

Designation
Name & Qualification

Associate Professor
Dr.Susmita Sen, M.Sc., M.Phil., Ph.D.

Associate Professor
Dr. Nivedita Roy Barman, M.Sc., Ph.D.

Associate Professor
Dr. Jayati Das, M.Sc., B.Ed,Ph.D.

Assistant Professor
Dr. Susmita Gupta, M.Sc., MEE, B.Ed, Ph.D.

Contractual Full Time Teacher
Ms. Ritubarna Pratihar, M.A., B.Ed.

Guest Lecturer
Ms. Indu Mundhra, M.Sc.

Guest Lecturer
Ms. Pramita Roy, M.Sc., M.Ed.

Guest Lecturer
Ms. Sreeya Bhattacharyya, M.Sc.

Guest Lecturer
Ms. Shrestha Saha, M.Sc., B.Ed.

DEPARTMENTAL HIGHLIGHTS

Participation of students in Citizen Science Programme since 2016 – A Collaborative Research project of Geography and Botany departments with WILDROOTS (NGO).

Publication of Departmental Journal'Vasudha' since 2009.The last two volumes of the journal(Volume 11 &12) were published as e-journals during the pandemic.

Every year several seminars, special lectures and workshops are organized by the department for the enrichment of the students. Three workshops, organized by the department in collaboration with UG BOS (Geography) and Faculty Council for Undergraduate Studies, University of Calcutta on 'Implementation of CBCS in UG studies in Geography(Semester 1&2) in 2018 and (Semester3& 4) in 2019 and (Semester 5&6) in 2022 deserve special mention.

Emphasis on student activities like paper presentations, preparation of wall magazines etc. on environmental and social issues on Active Learning Day every year.

GIS Add-on courses organized by the department every year for the final year students in collaboration with Opsis System Pvt. Ltd.

Academic Counselling for the final year students every year by alumni for guiding them in structuring their future career.

The students are encouraged to contribute in 'Impact', the college annual research journal and 'Vasudha', the departmental journal.

The students are encouraged to do internships in other universities and NGOs.

A solid foundation provided to the students at the undergraduate level that later enables them to pursue higher education in reputed institutions throughout the country as well as abroad.

Many students take active part in various social work as members of the Social Welfare Committee or NSS (Extension Services) of the college.

Programmes/webinars/workshops/conferences/special lectures oragnized by the department


| | | | |
| --- | --- | --- | --- |
| Date | Title of the programme | Name of resource person/organization | Platform |
| 26.6.21 | National Webinar on Problems and Prospects of Water and Waste Management in Mumbai | Dr. Baishakhi Dutta , Dr. Chandani Bhattacharya | Impartus |
| 25.2.21 | GIS Workshop on 'Geomatics for Terrain Application.' | OPSIS PVT LTD | Google Meet |
| 22.12.21 | GISWorkshop on 'Image Processing and Web GIS' | APIRADIX | Google Meet |
| 6.2.21 | Career Counseling of final semester students 'Towards a Vibrant Career"by an Alumnus | Sreenandini Banerjee | Google Meet |
| 11.6.21 | Orientation of final Semester students on 'GIS and Its Future Prospects' by Alumni | Soniya Srivastava,Amrita  Bharati | Google Meet |
| 29.6.21 | Orientation of final year students on 'Possibilities and Prospects of Population Studies' by an Alumnus | Dr.Ankita Siddhanta | Google Meet |

JOURNALS

ALUMNI
After the successful completion of graduation course, a large percentage of students of the department, pursue Masters'Degree in not only the core subject but also in Geographical Information System(GIS), Social Work, Disaster Management, Forest Management, Environmental Management, Regional Planning, Urban Planning, Population Studies, Tourism and Travel Management.
After the completion of their Masters' degree, many of them pursue academic research work in different renowned national and international institutions or secure employment in the field of administration or as GIS developer, GIS Analyst, Regional and Urban Planner, Travel and Tourism Planner and Advisor, Entrepreneur and teacher in different private and government institutions.Some of the illustrious alumni are :
1. Pausumi Basu (2000) Director, Administration Division, Ministry of Home Affairs, Govt. of India.
2. Arnesha Guha (2002) Academic Director at Scientific and Environmental Research Institute, Member Secretary of International Benevolent Research Foundation and Deputy Secretary at Confederation of Indian Universities, New Delhi
3. Sreenandini Banerjee(2013)- Former member of Smart City Fellowship Programme at The Ministry of Housing and Urban Affairs. Presently working as Programme Manager, National Institute of Urban Affairs under The Ministry of Home and Urban Affairs, New Delhi.