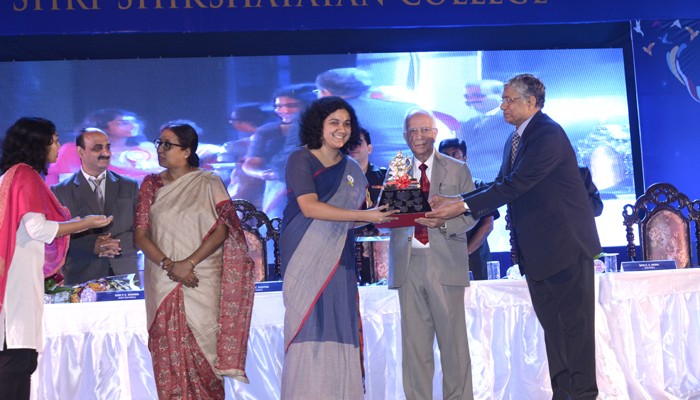 Seamonti Chaudhuri shares her feelings after winning the coveted Saraswati Trophy for the Year 2014-15
When I stepped into 11, Lord Sinha Road in July 2012, little did I know that this journey would be life-changing for me. Shri Shikshayatan College gave me a vision, a vision to make a difference in this world with whatever little capacity I had.
My college has always believed in nurturing and blossoming each and every individual. Hence each of us were encouraged to be involved in all the college events in some way or the other. The N.S.S camps and workshops were an eye-opener to me. It not only made me aware of the prevalent social problems but also taught me the possible solutions for them.
The annual college fest Srijan is a true test of dedication, determination, time management and most importantly team work. Students with their myriad ideas come together to make this a success. Being a part of the volunteering team was a step forward in honing my leadership qualities which will inevitably help me in the future.
Shri Shikshayatan College has a strong literary and academic legacy owing to the innumerable seminars, book-talks and paper reading sessions. Attending these helped me to develop a critical acumen of my own.
My inclination towards the performing arts found an excellent platform here. Performing in different departmental and general college programmes, attending theatre workshops especially one with Mr. Kaushik Sen taught me many nuances of stage and theatrics. The experience of these programmes as well the guidance provided by our teachers motivated us to script our own play for the Annual Concert in 2014. It was indeed an experience of a lifetime.
I take this opportunity to thank my Principal Dr. Aditi Dey for showing me light in the face of despair always. I am grateful to my teachers for providing me with an environment most congenial for a person's holistic development. I express my sincerest gratitude to the non-teaching staffs for providing us with their silent assistance behind the scenes every time. I will treasure forever the camaraderie shared between friends, seniors, juniors all alike. Shri Shikshayatan College is my second home, my family where every member ceaselessly strives to make this institution grow from strength to strength.
As I leave the sheltered walls of the college and walk out into the world, I am aware of the responsibility that comes with being an alumnus of this prestigious institution. Being true to its motto of "Power to Her", this college has given me power of making my own choices and taking responsibility for my actions at the same time. I hope that as I continue my journey, I am able to contribute to the society at large with the true strength of the values that I've inculcated and cherished here.