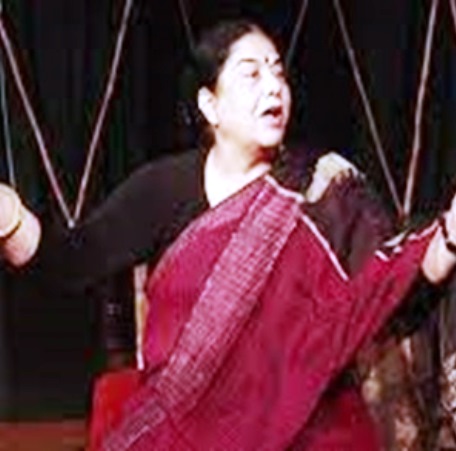 USHA GANGULI(Batch: )

Hindi(H) from Shri Shikshayatan College
Founder-director Rangakarmee theatre group (1976)
Usha Ganguli (1945 – 23 April 2020) was an Indian theatre director-actor and activist, most known for her work in Hindi theatre in Kolkata in the 1970s and 1980s. She founded Rangakarmee theatre group in 1976, known for its productions like Mahabhoj, Rudali, Court Martial, and Antaryatra.
Ganguly, who is credited for introducing a new form of alternative Hindi theatre in Bengal, used to say "theatre is my only life and passion and Rangkarmee is my family'.Her Rangakarmee gave a separate idiom, a new language to theatre in Bengal and created a new audience, which had so far been familiar with Bengali group theatre and English theatre, in the late 70s and 80s.Ganguly is credited to have ushered in the rich, glorious tradition of Hindi theatre in Kolkata having both Bengali and non-Bengali speaking audiences.
Her Bengali productions include Mukti and Manasi. She also worked with Rituparno Ghosh during the scripting for Raincoat.
Awards: Sangeet Natak Akademi Award for Theatre – Direction