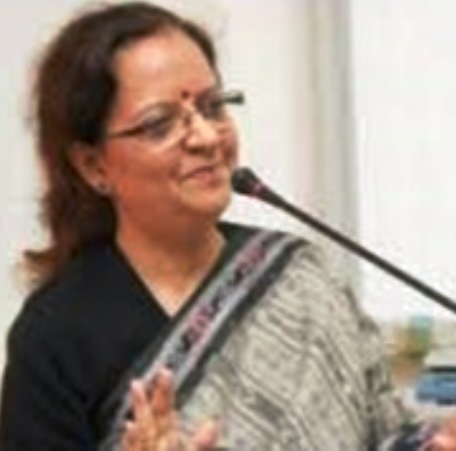 SUDHA ARORA (Batch: )

Hindi(H) from Shri Shikshayatan College
She is a popular name in fiction Sudha Arora's stories have been translated into almost all Indian languages ​​and many foreign languages.She has prepared two anthologies of autobiographies of Indian women, artists, "crossing the threshold" and "flying wings". Her weekly column 'Vama' on issues related to women in the fortnightly magazine 'Sarika' and 'Aam Aadmi Zinda Sawal' in the national daily 'Jansatta' has been a well-known social issue of women's organizations. Her activism and support towards the works continues.A collection of articles 'Aurat ki Duniya vs Duniya ki Aurat' focused on women is going to be published soon Story 'Yuddhviram' (1975 – Mumbai Doordarshan Kendra), Story 'Dahleez Par Samwad' (1981 – Lucknow Doordarshan Kendra), Story 'History Repeats' 1986 (Kolkata Doordarshan Kendra) and Story 'Jankinama' 2000 by Delhi Prasar Bharati movies made.
Production of some short films for Doordarshan's 'Samantar' program
Awards –
U.P. Hindi Institute (1978)
Bharat Nirman (2008),
Priyadarshini Academy (2010)
Women's Achiever Award (2011)
Maharashtra Hindi Sahitya Academy (2012)
Central Hindi Directorate Award (2011)
Vagamani Samman (2014)
Munshi Premchand Katha Samman (2014)
Mira Smriti Samman (2016)
"Shikshayatan made us Proud !*
I was admitted to class IV at Shikshayatan school in 1954. In 1965, I graduated from Shikshayatan college.
This Kolkata college had a distinguished faculty in Hindi department. Dr. Pratibha Agrawal was a theatre activist, Prof. Kiran Jain was a poet and Prof. Sukriti Gupta, a fictionist and singer. Such teachers naturally inspired the students to diversify and excel. Shri Shikshayatan hosted several historic events connected with Hindi literature and language in the sixties.
Even now one meets a stranger at an airport abroad, an exchange of smiles and then the inevitable query, 'Aren't you from Shikshayatan?'
Yes ! I am a proud product of Shri Shikshayatan!