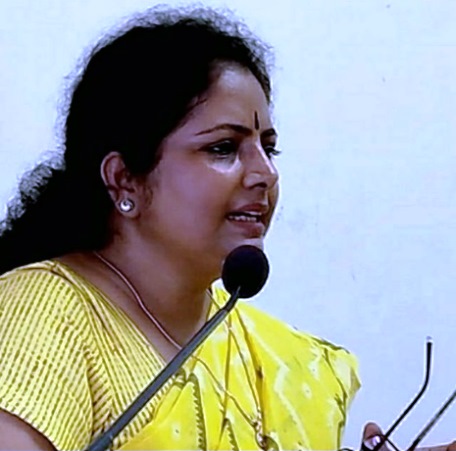 PROF. SUDHA SINGH (Batch: )

Hindi(H) from Shri Shikshayatan College
Professor (Media/Journalism/Translation) M.A with Gold Medal, 1994 , B.A Hons with Gold Medal in 1991, National Scholarship of Ministry of Human Resource and Development, Govt. of India, for the year 1991-93. With Gold Medal Passed Elementary Exam in Russian Language. Intermediate Exam in Russian Language (Ministry of Education, Turkmenistan.)
At present Proff. Sudha Singh is also a Member of Executive Committee, Hindi Academy, Delhi from 2016.
She is also a Visiting Scholar at National / International Level.
Books : -Soochana Samaj. E-Book, Adhunik Sahitya Aur Ramvilas Sharma, E-Book, Jantantra Jan Madhyam Aur Vartman  ,Sankat, SoochanaSamaj: Ek Parichay, Armand Mattelart, Gyan ka Strivadi Path, E-Book, Buniyadi Hindi Swaniki Aur Vyakaran, Mera Jeevan : Ras Sundri Dasi, Sajha Sanskriti : Bhartiya Fasivad Ka Stri Pratiyuttar , Stri Katha, Madhyakalin Sahitya Vimarsha and many more books she has written.
"Shri Shikshayatan College has played a pivotal role in my life. Whatever I am today is due to this College and its academic environment. My teachers of Hindi Language and Literature, History, Education, English and other subjects were very skilled, affectionate and encouraging. A good library with lakhs of books and journals on various subjects and stream other than curricula, and a very co-operative staff has fulfilled my intellectual appetite. A good and well maintained swimming pool under the staircase of library for physical well-being was also a boon. And I cannot forget the caring attitude of fourth Grade Karmacharis whom we used to call 'Darbanji' (Gate Keepers and peon of the college). I owe my little bit achievements life to Shri Shikshayatan College".