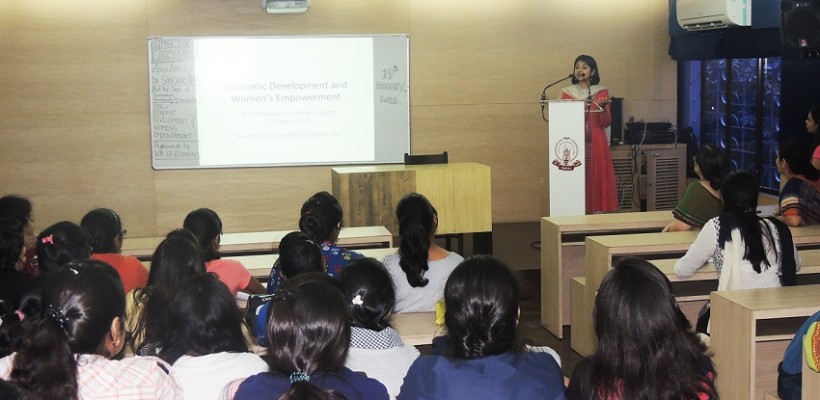 DEPARTMENT OF ECONOMICS
YEAR OF ESTABLISHMENT: 1955 : General | 2000-01: Honours

INTAKE
36
FACULTY MEMBERS

Associate Professor
Smt. Manjari Chatterjee, M.Sc.

Assistant Professor
Smt. Paramita Chakravorty, M.Sc., M. Phil.

Assistant Professor
Smt. Sutapa Sen, M.Sc., M. Phil.

Guest Lecturer
Smt. Suraya Roy, M.Sc.

Guest Lecturer
Smt. Nilanjana Roy, M.Sc.

DEPARTMENTAL HIGHLIGHTS

Active participation of students in Paper presentations, Wall Magazine, Quiz, Creative writing, Debates, and other inter and intra College activities.
Special Lectures and Talks by eminent Resource persons arranged every year for students' enrichment
Involvement of students in Topic/Article reviews, Students seminar on contemporary issues, participation in Group discussions related to relevant topics.
Consistently good academic performance of students in University Examinations.

Megha Shah – 1st (2017); 3rd – 2015; 5th – 2018

Programs/webinars/workshops/conferences/special lectures oragnised by the department


Date
Title of the program
Name of resource person
Platform
1.8.2020
Online Data Fluency Workshop [For all students of Economics Honours]
Dr. Sayantani Roy Choudhury
Associate Professor, Praxis Business School, Kolkata
Google Meet
13.11.2021
Students  Webtalk/Webinar  on A focus on Gender Bias and Development SEM 5H STUDENT SPEAKERS
SEM 5H Student Speakers/Paper presenters
Google Meet

JOURNALS
 ECOVISION VOLUME 6 SPECIAL VOLUME 2017-2020

ALUMNI
Alumni placed in diverse fields like Banking, Teaching, excelling in Academics , enrolled in PG in esteemed Institutions/Universities, obtained PhDs [from national and international universities], Gold medalist from Madras School of Economics, rank holders, Ist class first[CU]- Megha Shah (2017) and other ranks in University examinations, enrolled in PG courses in various prestigious institutions like Presidency University, Symbiosis School of Economics, ISI, St Xavier's University, and also in several professional courses[management, etc].